Make bathtime fun for your little ones - and easier for you - with these brilliant range of baby bath toys.
#1 Hatching Eggs Bath Toys for Toddlers
This hatchable egg might be the coolest baby bath toy ever! It even doubles as a mini squishy water toy! It can be even more adorable and fun when this little hatching duckling comes to play in the tub.
Warm Reminder: You must make sure they are empty of water to avoid mold and mildew growth inside these toys. Washing your baby's bath toys regularly is a better choose.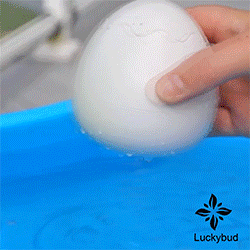 How Does This Hatching Duckling Work?
The eggs can be completely immersed in water for 10 seconds sinking and can be sprinkled. Press the head and squeeze water to play as the best toy for squirting.
As the water fills the egg up, the hatchling and top portion of the shell become buoyant which is how it slowly hatches. When you lift the egg out of the water and the water rains out, the hatchling will slowly go back in his shell as water level falls.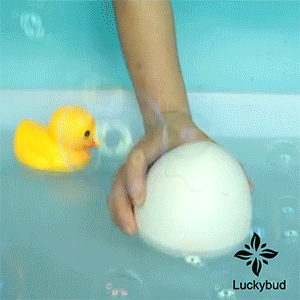 Just toss the egg into the tub, submerge him, and watch him hatch as he fills up with water - peek a boo! Your little one will want to soak for hours playing with this little hatchling.
Want to have a bit of cheeky fun with this hatchling? When the egg is full of water hold the duck and press down on his top shell - he'll squirt a bit of water out of his beak!
This hatchling is not only adsorb, it can also make bath time easier by serving as a rinser to wash all that soap away gently. Rinsing is always the hardest part of bath time, especially when the little one isn't old enough to lean their head back to rinse their hair.
With this little ducky you can make rinsing more fun for them and less guilt-ridden for you. The bottom of the egg features a number of small holes that lets the water from inside the egg rain out of gently. As the water rains out the top of the egg slowly closes again.
Features & Specification of Hatchling Toys:
Interesting Babies Bathing Game: There are animal shaped spout covers that turn bath time into a mini play park as they can splash water, hide and seek, simulate hatch cute animals.
Educational Toddlers Activity Toys: What happens if the toy is filled with water? Water and rain, floating and sinking, various cute animals is that will interest your baby and stimulate brain development.
Safe Bath Toys for Baby: Eco-friendly, safety certification, tasteless and formaldehyde-free, free of PVC, phthalates, and BPA. Round and burr-free, does not hurt the hand, odorless, safer.
Apply as Bath Fun: Suit for 1, 2, 3, 4, 5, 6 years old baby/ toddler/ kids. Bath time, bathroom toys, free and interesting education.
Specification:
This little toy that grows in water measures roughly 3.7 x 3.9 x 4.1 inches and comes in several model choices with color gift boxes.
1pc x Hatching Duckling Egg Toy
1pc x Hatching Penguin Egg Toy
1pc x Hatching Blue Dinosaur Egg Toy
1pc x Hatching Red Dinosaur Egg Toy
1pc x Peek-a-boo Giraffe in Cloud Toy
What is more, these cute hatching eggs are perfect white elephant gift ideas, and the best birthday & Christmas & valentine's day gifts for kids and adorable baby shower gift ideas. Maybe they can also act as those eggs gift put into the Easter baskets for your kids.
While Let's Add Some More Little Cute Animals Style Baby Bath Toys to Your Little Ones' Stocking Stuffer Ideas Listing This Year and Make All of Them Say "WOW"...
#2 Wind Up Swimming Turtles Bath Toys
No batteries required, clockwork driven! Twist the grip under the turtle head clockwise and the cute turtle will swim quickly in water around your kids.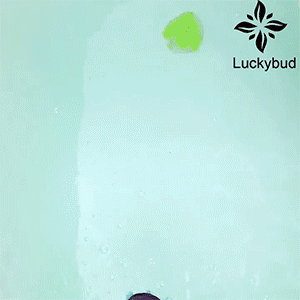 Warm reminder: Please be noted that the color of the wind up turtle bathtub toys will be sent randomly.

#3 Fishing Floating Squirt Bath Toy
This is a bath time fun learning & education toy for toddlers and have an interactive fishing net to capture marine animals.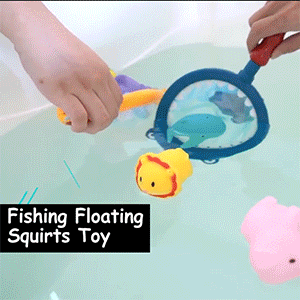 Our Guarantee:
1, Safe payment via Paypal, if you do not have Paypal, please  check here.
2, Tracking number for every order, click here to track your parcel.
3, 24/7 assistance: [email protected]
4, 7-15 business days for delivery. (May cause shipping delay due to COVID-19)
5, 30 days guarantee.