Cat lovers are going to love these Fluffy Cat Claw Socks. They are totally paw-some!
Going matchy-matchy with your bestie just went to a whole new level! These soft socks resemble cat paws with spots or stripes on the legs and teeny toes on the soles.
Slip them on and your feet will revel in toasty, cozy comfort when you're chillin' or snoozin' away the weekend (with your furry friend by your side, of course).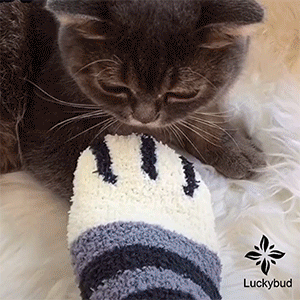 Features of Cat Paw Socks:
Comfortable Material:  Made of silky soft, lightweight, breathable and stretchy materials, this cozy cat paw socks will give just the warmth and comfort that you need in a cuter manner with no itching issue.


One Size Fit All: These cat paw socks will surely catch the hearts of men and women who love cats. These winter socks has a one size fits all design from US 5 - 10 fitting your loved ones' feet regardless of their feet sizes


Unique Cat Claw Design: Lovely Cat Paw Socks are fuzzy socks around the ankles. They're wonderful cute winter cozy socks for you and families. 
Be it formal occasions, casual days or just cozy snuggles in cold afternoons, these colorful cozy socks will save the day. You can also buy them for your purr friends for that twinning look on cuddle days


It is flexible and very comfortable. Keeps your feet warm and look so sweet.


Best Christmas Gift Ideas for Cat Lovers and crazy socks day! If you are looking for quirky gift ideas to impress your loved ones, these cute cat slipper socks are the best gift ideas.
Silly socks surely hit a homerun in surprising your spouse but also your purr friends

Confuse your cat when you are cruising with your new paw-alike socks over your floor and cause an envy feeling when she/he is looking at your feet and thinks: Those paws are so god damn cute, I need such good looking paws, too!
These cute animal fuzzy socks are extremely soft and make a great gift or stock stuffer especially for cat lovers. 
Our Guarantee:

1, Safe payment via Paypal, if you do not have Paypal, please  check here.
2, Tracking number for every order, click here to track your parcel.
3, 24/7 assistance: [email protected]
4, 7-15 business days for delivery. (May cause shipping delay due to COVID-19)
5, 30 days guarantee.
6. Safe online shopping in 2020