A Lucky Meganetic Heart Clover Necklace That Will Bring You or Your Loved Ones A Little Bit of Luck
Wanna pick a unique gift for her which is as unique and heartfelt as your #1 lady, no matter for Valentine's Day, Mother's Day, Anniversary or any special occasion? Try to wow your mom, grandma, wife, girlfriend or any other woman in your life with this 2 in 1 good luck symbol clover necklace.
This cool necklace that comes shaped like a clover. Has a magnetized feature- you pull it apart and it becomes four hearts. One side is a deep blue color and the other red. You will love how you can change it to the shape you want- wear it closed as the clover or as the four separate hearts.
You get four necklaces in one because you can wear it four different ways. 1) you can wear it red as a clover, 2) blue as a clover, 3) red hearts open, 4) blue hearts open.
Wear this 925 sterling silver 2 in 1 four-leaf clover heart necklace when you're in need of a little bit of luck! Together pick a vintage rose shape jewelry box as the necklace holder, which will be the most unique gift for yourself or your loved ones.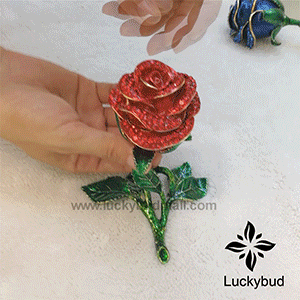 The necklace and jewelry box are sold separately, please make your choice accordingly:
#1) Blue & Red Four Leaf Clover Silver Necklace
#2) Blue & Red Four Leaf Clover Gold Necklace
#3) Pink & White Four Leaf Clover Silver Necklace
#4) Pink & White Four Leaf Clover Gold Necklace
#A) Black Drawer Jewelry Box (

Not included Necklace

)
#B) Blue Drawer Jewelry Box (

Not included Necklace

)
#C) Red Rose Jewelry Box (

Not included Necklace

)
#D) Blue Rose Jewelry Box (

Not included Necklace

)
Do you know four leaf clover as a lucky symbol? 1 in 10,000. Those are the odds given for finding a four-leaf clover. The 4 leaf clover is an ancient Irish symbol of Luck. The Celtics believed that the clover would help them see fairies and avoid fairy tricks. There are many varieties of Clovers but the true lucky ones come from a white clover plant. Each of the clover's four leaves represent either faith, love, hope, and luck.
Open this luxury rose drawer, make the clover necklace together with this jewelry box a special Valentines Day gifts for her. Happy Valentines Day!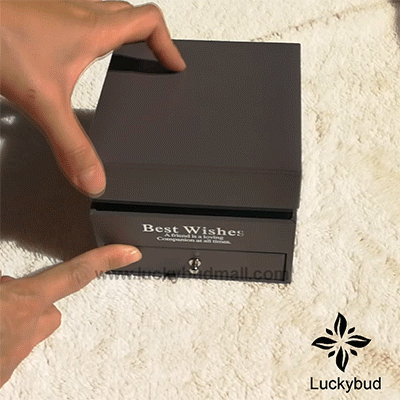 Features and Specification:
Designed with 4 heart shaped clover leaves (one side is red and the other side is blue/black/green color) in wishing best luck to wearers with full heart.
This four leaf clover pendantis the perfect gift for yourself or for your loved ones, especially during exams and other events that would benefit from a bit of luck.
If you also consider this red or blue rose jewelry box, you get a storage box for your cute clover necklace. This glitter small and vintage flower jewelry organizer is great for women to storage their rings, earrings, necklaces and bracelets, a perfect jewelry box for women.
Specification:
The pendant necklace is 925 sterling silver, made with crystals, sparkly four leaf clover, come with a solid chain (40cm long + 5cm extension). The pendant size is about 1.4cm + 1.4cm
Each necklace will be packed with a white gift box as below:
Our Guarantee:
1, Safe payment via Paypal, if you do not have Paypal, please check here.
2, Tracking number for every order, click here to track your parcel.
3, 24/7 assistance: [email protected].
4, 7-15 business days for delivery. (May cause shipping delay due to COVID-19)
5, 30 days guarantee.