When you need a hands-free light, a headlamp is a must-have.  The new standard in high-performance LED light bar headlamps offering you 350 lumens of bright continuous illumination with unrivaled light coverage.
Warm Reminder:
No direct shinning on eyes of people or animals, which may cause instant blindness.
With this cool hard hat light, you wil get to see the world as you would normally do in broad daylight. The wide viewing angle allows you to get the best light coverage in dark areas with impeccable flood light.
5 Lighting Modes: Just short press the switch to adjust the COB strip high mode, COB strip low mode, XPE spot high mode and XPE spot low mode. but for flash mode, you need short press the switch to turn on and then continue long press the switch for 3-4S.
This ultimate all in one head torch is pefect for all kinds of  activities such as woodworking, handy work, home repairs, running, jogging, hiking, fishing and other outdoor adventures. Keeps you focused on the work,  not on the lighting.
It is ideal for those awkward jobs that are difficult to reach. Unlike other head torches you have, you don't need to adjust your head position to get the light in the right place. 
Features & Benefits of the Head Flashlight:
1. Side Spot Light: Powered by XPE LED that delivers powerful light, which is perfect when you are around people, you won't blind everyone in your path.
2. Adjustable Headband: extremely adjustable to fit on any helmet, hard hat and all head sizes, including kids head. Plus, it's super comfortable to wear - it weighs no more than 100g.
3. Rechargeable via Type-C USB: The headlamp charges with lighting speed via USB type-C connection. A full charge takes about 2.5 hours and lasts for 8 hours on low mode and 2.5 hours on high mode. 1200mAh built-in battery, no need to replace battery.
4. 230° Wide Angle Illumination: The strip light is powered by COB LED technology, it delivers 350 lumens in high setting for maximum illumination. The wide viewing angle allows for all types of night activities, ensuring you get the best light converage in dark areas with impeccable flood light.
5. Wave Induction: Easily control the lights by waving your hand around the sensor. Just wave accross the sensor and it turns ON/OFF in an instant. This will eliminate the need to constantly adjust your headlamp to illuminate specific areas, allowing you to wokd effectively.
6. Small Package and Easy to Carry: This head torch is very lightweight and folds down really small for ease of carrying.
You will also be surprised just how bright the below tiny little COB torch light is, take one keychain flashlight as a backup whenever and wherever you are, you won't be disappointed.
This all-in-one portable pocket work light has folding bracket, carabiner, bottle opener and magnet design. Best for fishing, walking and camping and other lighting work.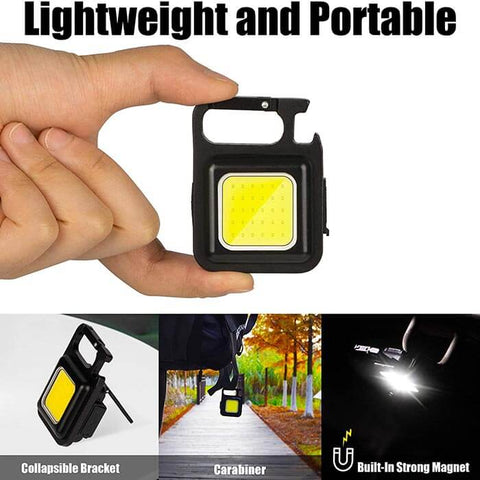 Click below link for more details about the Rechargeable Mini COB Keychain Flashlight:
https://www.luckybudmall.com/products/rechargeable-keychain-torch-light
Our Guarantee:
1, Safe payment via Paypal, if you do not have Paypal, please  check here.
2, Tracking number for every order, click here to track your parcel.
3, 24/7 assistance: [email protected]
4, 7-15 business days for delivery. (May cause shipping delay due to COVID-19)
5, 30 days guarantee.
6. Safe online shopping in 2020