Great Plant Support Clips for Growing As Well As Storm Winds
This is an especially designed garden plant support clip to use when you want to keep your veggies, flowers, climbing and crawling plants or small trees together, to protect from weather, wind, or rain damage without harming damaging or injuring the plant.
Our Guarantee:
1, Safe payment via Paypal, if you do not have Paypal, please  check here.
2, Tracking number for every order, click here to track your parcel.
3, 24/7 assistance: [email protected]
4, 7-15 business days for delivery. (May cause shipping delay due to COVID-19)
5, 30 days guarantee.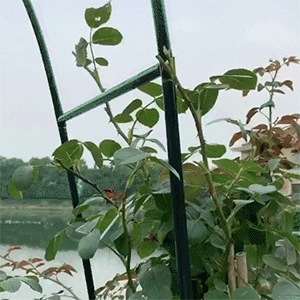 These plant support clips are a MUST HAVE for the avid gardener. They make staking plants a WHOLE lot easier. Now you can use these unique garden clips to replace the green twist ties and/or plastic tape that you may have used in the past to prop up your garden plants such as tomatoes and climbing roses. They are easy to apply and due to the open center of these clips, you can successfully secure your tomato plants to a pole or stake without harming the stalk of the plant.
These little things are easy to move as your plants grow, they last for years if you put them away after the growing season, there is no messing with ties that can cut into stems and aren't easy to keep for reuse.  These garden clips are very handy and they are super easy to put on even with your garden gloves on. Something that's nearly impossible for you to do with twist ties. Your gardening kit never goes without a handful of these handy little clips included.
These tomato clips are also ideal for attaching Christmas lights to trees and shrubs during the holiday season.
Tomato Clips Features & Specification:
Designed with easy one-hand operation, reusable, weatherproof & non-rusting, spring steel wire set of 10 or 20 clip ring's – 10 or 20pc small 1" and 10 or 20pc large 1-3/4". 
Quick and flexible release design and easy to use add and remove spring clips: Simply pinch the handles to open and release to trap the stem and the support in one easy motion. One hand is all it takes to pinch and clip, leaving your other hand free to insert the support and stem into the clip.
These garden vine clips for plants can be hold seedling stems or delicate flower securely, make climbing plants stay upright and bolster fruit-laden branches won't harm plant or hinder growth. The Green color camouflages and virtually disappears into the foliage.
You can use those gardening clips quickly and easily secure plant stems to cane, arbor, metal/bamboo poles/garden stake/stick, garden cage, tomato stake, garden trellis, trellis netting, plant support hoops or anything that can provide plant support.
Protects delicate flowers and plants to hold your plants gently but firmly against wind damage, saves you a lot of problems to worry about your plant. With this spring clip, it can hold plants firmly and tightly, protect a strong support for plants, bolster fruit-laden branches won't harm plant or hinder growth.
These greenhouse clips will keep your vegetables/ veggies, flowers, climbing and crawling plants or small trees together, like tomato, beans, cucumber, zucchini, eggplant, watermelon, cantaloupe, summer squash, sugar snap peas, pumpkins, baby corn, peppers, grapes, black-eyed susan's, vine, hydrangeas, honeysuckle, clematis, climbing roses, lily's, Ivy, Jasmine, Mandevilla, Sunflower, Moonflower, Morning Glory, Nasturtium, Passion, Sweet Pea, Bougainvillea, Trumpet, Canary, Carolina, Madeira, Orchids, Humming Bird plants.
SPECIFICATIONS:
Color: Dark green
Material: Plastic, steel
Size of large clips: 2.4 x 1.7 inch / 6 x 4.5 cm.
Size of small clips 1.6 x 1.1 inch / 4 x 2.8 cm.
PACKAGE INCLUDES:
20/40 * Reusable Garden Plant SupportClips