Now you or your kids can mold a perfect snowball, snowman, duck, or heart, with the perfect snowball maker set.
Don't let your snowball fights cut short when your fingers get too cold to form the balls. Here comes a snowball maker that can make adorable snow balls and ducks in seconds! This will make the perfect snow ball everytime. Kids love them as do adults. Such fun in the snow!
Whether your child is a snow art savant and wants to make flawless snow designs using these snow mold toys, or they just want their neighbors to see hearts, snowmen, and ducks before getting pelted with snow, these are a unique gift for any creative child that likes to play in the snow.
The round mold helps to easily create a perfectly round snowball in just seconds! Simply scoop up the snow, press down the handle to compact the collected snow, and you are ready for a snowball showdown.
The long handle is comfortable to grab when making the perfect snow ball. The handle also helps to keep your hands from getting cold and wet while forming your arsenal of snowballs.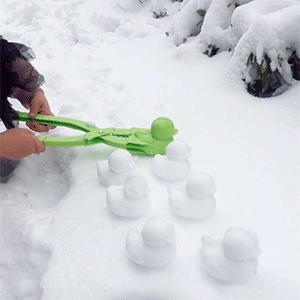 Our Guarantee:
1, Safe payment via Paypal, if you do not have Paypal, please  check here.
2, Tracking number for every order, click here to track your parcel.
3, 24/7 assistance: [email protected]
4, 7-15 business days for delivery. (May cause shipping delay due to COVID-19)
5, 30 days guarantee.
6, Safe Online Shopping Guide 2020
And for those who aren't experiencing winter at the moment, you can also use these kids' plastic shape molds in the sand - build your own sandman to cool off in the hot summer sun!
More than just for winter fun, this tool can be used year-round! It can additionally be used with wet sand for sandcastles, mud, or even for DIY bath bombs. 
Whether it snows in your city or not, you can always use this mold! Make not only adorable ducklings, also cute penguins and snowmans.
A simple, yet unique mold that lets you easily make snow ducks/ penguins/ snowmans in a matter of seconds.  This toy is great for kids and helps to encourage outdoor play even in the wintertime. More than just for kids, however, this snowball maker is great for people and families of all ages for snowball fights or a fun day in the snow.  
Having the ability to make so many ducklings & snow balls in such a short amount of time... Get your friends and family ready for a snow ball fight!
These little ducks make a fantastic temporary decoration that you'll never get enough of. This makes a great surprise for kids or a cool gag toy for just about anyone.
Reminder: We will send the color randomly.